Our Philosophy – Less is More

Sonic design is a premium car audio manufacturer in Japan, and pursue the ideal sound by the high level of technology and its originality.
Since its start, we have a consistent policy "smaller speakers, less speakers". It is the idea that instead of complex combinations of different frequency band and the diameter of the speaker, but condense the overwhelming high-performance into small diameter unit, and focus the sound source. To achieve pure original and comfortable sound in such a narrow and complex vehicle interior, we confidently believe that it is rather important to remove all complexity and design compromises.
Image the ideal concept first, and pave the shortest route to the sound that we aim. "Less Is More", Sonic Design would like to expand the possibility of car audio.

Sonic Design speaker's uniqueness
- Enclosure System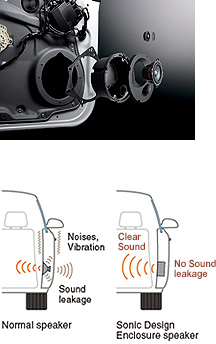 Sonic Design enclosure system provides following advantages.
1) Clear sound with reduced noise and vibration
2) Shut out the sound leakage to outside
3) High durability, long life guarantee
Home audio speakers are mostly inside enclosures. This is to obtain the best performance from the speaker unit.
But for car audios, it is normal to install speaker units fully exposed, with the inside door acting as an enclosure. However, doors are not designed for speaker enclosures, therefore noises and vibrations are caused by the resonance of inner body panels and trims, and the sound is tend to be not clear. And also, the sound of inside doors cause an unpleasant sound leakage to the outside of the vehicle.
Sonic Design speakers solve all these negative essential problems of normal speakers with its Enclosure speakers.
- Micro speaker technology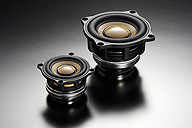 For speaker units, we developed 52mm and 77mm wide range driver unit. This size is less than ¼ of a normal 16cm speaker.
But in the Sonic Design's micro speaker unit, technological innovations such as improving the precision of the diaphragm stroke, strengthening the magnetic circuit, achieving high stiffness by die-cast aluminum frame and baffle, adopting high quality and high performance diaphragm materials, have resulted to reproduce the surprising sounds which cannot be imagined from the size.

Copyright© Sonic Design. All rights reserved.