Sonic Design products are also purchasable in foreign countries.
The sales network is spreading globally.
Sonic Design also established sales bases not only in Japan, but also in Korea, China and Thailand. Purchase of a product, installation and customer service could be accepted in the countries above. We have plans to establish sales bases in Europe and America as well as the Asian areas and develop a global sales network in the future.
*For farther information on the products, please inquire directly from the distributor page.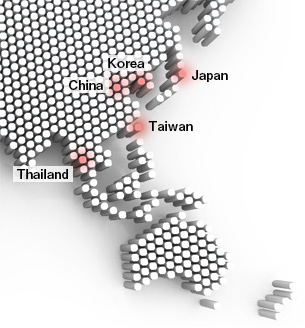 Korea

ability
143, Bongsu-daero, Seo-gu, Incheon, Korea
TEL: +82-70-8285-5199
FAX: +82-32-584-9014
E-mail: khs900rr@hanmail.net
URL:http://www.sonicdesign.co.kr/index.php

China

Feng Co., Ltd.
162-room709, Hongqi Street, Nangang District,
Harbin, China
TEL: +86-451-82313440
FAX: +86-451-82311884
E-mail: sonic@feng.co.jp

Sonic Design China Official URL:
http://www.sonic-design.com.cn/
Feng Website URL:
http://fengbusiness.1688.com/

Thailand

Sonic Design Thailand Co.,Ltd
(Techno Sell (Frey) Co.,Ltd)
12/11 Moo 18 Thalingchan-Bangbuathong Rd.,
Salathammasob, Thaveewattana,
Bangkok 10170 Thailand
TEL: +66-2885-2500
FAX: +66-2885-2509
E-mail: info@sonicdesignthailand.com
Manufacturer

Sonic Design Co.,LTD
Address : 2-6-18 Minamicho, Chuo-ku,
Chiba-shi, Chiba 260-2842, JAPAN
TEL : +81-043-209-1777
FAX : +81-043-209-1778
Copyright© Sonic Design. All rights reserved.